I have been practicing law for more than three decades, mostly litigation (including advice on how to avoid lawsuits), and some work with non-profit organizations. Here you can find information about my experience concerning homeowners associations. I do other work as well, including litigation in federal as well as state court
I welcome your comments on my opinions, any proposals (or concepts, or ideas) for new laws, and — from homeowners — requests for consultation. You are invited to use the forms below to contact me. Unfortunately, I will not be able to help everyone. But there is no charge for me to review your submitted form.
My experience concerning homeowners associations
In 1999, I began representing homeowners in disputes with HOAs. Geneva Kirk Brooks, along with other homeowners, had protested certain actions by Northglen Association. The Association sued, including claims of defamation — meaning, the Association claimed, Ms. Brooks and others were not telling the truth about limits on the powers of the Association. Our position was that the truth was being told.
It took several years, and eventually the case went all the way to the Texas Supreme Court. All of the defamation claims were defeated. The Texas Supreme Court issued a decision that confirmed important limits on the powers of all associations, including Northglen. Here is the decision.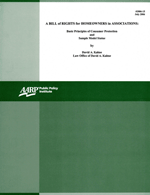 Later, AARP's Public Policy Institute hired me to write "A Bill of Rights for Homeowners in Associations: Basic Principles of Consumer Protection and Sample Model Statute" (which they published in July 2006). That considered laws in Arizona, California, Florida, Nevada, and Texas (with some laws from other states too). Although many of those laws have changed — some for better and some for worse — I stand behind the ten points from the Bill of Rights that I urge be adopted in all states and by all associations.
Since then I have continued with work representing homeowners, providing counseling, suing associations, and defending when associations sue homeowners. That work sometimes is made difficult because of bad laws. To try to improve the laws, I have continued with work advocating for better HOA statutes at the Legislature (for which I have not been paid by anyone).
In a small number of situations where owners have organized to win elections and want to change their association to be homeowner-protective, I have represented associations as organizations. However, I have not done collections or foreclosures against owners. Finally, I have provided expert testimony, after being qualified by a Judge, to explain parts of the relationship between homeowners and associations. In such cases, I have explained ways that existing laws protect homeowners, and also limits that exist on those protections.
More Information
Here is my resumé, as well as listing of some of my legislative work and selected publications.
Contact Me
Here is my contact information.